Website tested
Test label: 1E4C3-D6B4
Anwaltlich geprüft
Dieser Shop erfüllt die über 130 objektiven Prüfungskriterien der IT-Recht Kanzlei.
Vertrauenswürdig
Für diesen Shop werden anwaltlich geprüfte Rechtstexte verwendet.
Stets aktuell
Dieser Shop wird von der IT-Recht Kanzlei dauerhaft rechtlich betreut.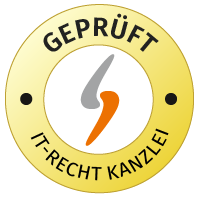 PRÜFZEICHEN VERGEBEN AN
Artistshome e.K.
PRÜFZEICHEN VERGEBEN AM
13.10.2015
VERGEBEN DURCH

RA Max-Lion Keller, LL.M.
Gesellschafter der IT-Recht Kanzlei
Security on the basis of 130 objective test criteria
The website https://www.original-prints.com has successfully passed a rigorous legal examination by the law company IT-Recht Kanzlei Munich which requires compliance with more than 130 test criteria. The testing catalogue has permanently been improved since 2006. To this end, the IT-Recht Kanzlei can draw on a well-established network of specialized colleagues and on the Munich e-commerce law Institute (Münchner Institut für IT-Recht).
Durable compliance with test criteria
The website https://www.original-prints.com is subject of regular follow-up checks to ensure that the test criteria are strictly respected.
Relevance of the test label
The test label documents that the website has passed a legal examination by the IT-Recht Kanzlei, is permanently serviced on legal issues by this law company and that its legal texts are used. However, the test label does not allow any conclusion about whether other providers, who do not use the test label, act in a less lawful manner than the website owner.
ARTISTSHOME E.K.
SHOPANSICHT
SHOP-URL:
https://www.original-prints.com
ANBIETER:
Artistshome e.K.
ADRESSDATEN:
Borgstuecken 17
22043 Hamburg
Deutschland
KONTAKT:

Telefon

040/41309701


E-Mail
WER PRÜFT HIER?

IT-Recht Kanzlei
Alter Messeplatz 2
80339 München
Telefon: +49 89 / 130 14 33 - 0
Telefax: +49 89 / 130 14 33 - 60
E-Mail: info@it-recht-kanzlei.de
Das Prüfzeichen "geprüfter Online-Shop" wird von der Münchener IT-Recht Kanzlei vergeben. Die IT-Recht Kanzlei betreut derzeit mehr als 12.000 Unternehmen anwaltlich im Rahmen ihrer Schutzpakete für den Online-Handel. Die Rechtstexte der IT-Recht Kanzlei werden derzeit für über 40.000 gewerbliche lnternetpräsenzen genutzt.